The Programs
Learn Greek in Greece or from your home comfort!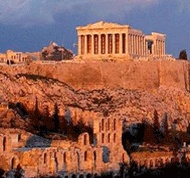 The Greek courses are designed to fit the student's needs and therefore are highly personalized. We develop a tailor made program for you that suits your needs. The schedule can be flexible, ensuring that you don't miss any lessons.
The lessons include grammar, reading passages, exercises and conversation and utilize a variety of teaching aids including various grammar books, cassette tapes, poetry, songs, stories, current news and events and incidents from your daily life. Courses cover all levels.
9 Muses is available to you for special advanced courses or further conversation lessons and distance learning support.
Many students from around the world studied Greek language in our school let's read what they have to say!
Online Distance learning Greek courses
In a challenging educational period we provide the opportunity of low budget educational course which does not lack the face-to-face advantages. Lessons are suitable for those want to begin, to prepare for exams, to improve or to brush up their Greek.
Personalized skype lessons can be offered 7 days a week any time you want in order to suit your program and time difference.
Via Skype you will be engaged in discussions of topics of your choice.
Skype-Greek include everything of a normal class lesson.
Each tutorial is followed by e-mail feedback and tutor's support.
It 's a real value of money way to learn Greek.
Every student can find a variety of exercises,texts and much more if he/she connects with our dropbox.
Every Saturday and Sunday we offer FREE OF CHARGE introductory Greek skype lessons for students who wish to learn Greek!!
Story-telling in Skype Greek programme
We surface authentic voices. Having a media creation for the students they experience real language in fairy tales, literature extracts, mythology and articles. It is a piece of art which leads the learner to participate , organize and create his/her own story at the end!
Scheduling your online distance learning Greek language program
Monday to Friday mornings from 08:30 to 11:00 (GMT +2) and at nights from 21:00 to 00:00 (GMT+2)
Saturday and Sundays any time subject to availability.
Sessions of 30 minutes and 1 hour
All sessions are followed by email feedback
Lessons which are cancelled due to technical issues of any side are replaced
Books are not included but we can send them to you at your own charge
Payments with paypal are available
Any combinations and special schedules even if they come in conflict with the above time availability and durations are definitely under discussion!
Courses in Athens
Living the language is essential thus apart from the structured tuition, all conversations, TV viewing and social activities are in the language you are studying. In this important social context, your teacher will guide you and correct mistakes. It's this full immersion approach which makes 9 Muses so effective, and gives insight into language and lifestyle.
You learn the Greek language so go out with locals and get your experiences.
Shopping, walking, commuting, visiting places like a local, avoid touristical parts and immerse into real Athenian life.
Buy things from supermarket, ask people ,shop assistants, cashiers…sample food and learn how to cook it.
Find out what locals do for entertainment, where they like to eat, drink ,dance.
Understand and use Greek common phrases ,write them down.
Do not be shy. Make efforts to speak the language with people around you. Remember food connects all, drinks make new friends!
Go to street markets, talk with fruit and vegetable vendors. It is good fun!
Everywhere there are little surprises…street food, bus discussions, fights, street artists ,strikes!
Well , why don't you have your hair done? Go to the local hairdresser ,talk with them, ask them, listen to them.
Chat about news, get a newspaper ,a magazine…
In a few words, get out of the touristic area with our help and experience the city like a local!
Suitable for any age
The 9 Muses method is suitable for any age range. Older, mature students with very little previous knowledge of their chosen language, need not suffer from being part of a large mixed aged or ability group because are individually taught or in group of 2 persons.
A series of activities such as cooking, arts and crafts and mythology are organized to give you an opportunity to learn more about Greek culture We prepare students for the Ministry of Education exams on "Greek Language Certificates". All courses are run in 60 hours basis throughout 2 to 10 weeks.
For the ones traveling from abroad, assistance for accommodation is certainly provided.
Some of our suggested programs in duration and intensiveness. Note: you can always create your own program.
| Weeks | Hours | Price (Accom. in 9 Muses) | Price (w/a accommodation) |
| --- | --- | --- | --- |
| 1 | 20 or 30 | Contact Us | Contact Us |
| 2 | 20 or 30 | Contact Us | Contact Us |
| 4 | 20 or 30 | Contact Us | Contact Us |
Prices with accommodation in 9 Muses Apartment include
Private tuition plus accommodation in an fully equipmed apartment next to 9 Muses School of Greek Language.
Course materials
Internet use in school and apartment
Prices without accommodation include
Private tuition
Course materials
Internet use in school and apartment
Optional at additional cost
Special seminars on story telling,saponification,cooking ,like a local-Athens or whatever the applicant is interested in is extra paid per session.
Meals with emphasis in Greek cuisine (only for those with accommodation in 9 Muses)